Borbás Helga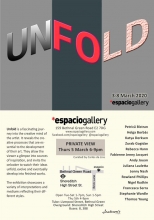 Unfold
2020-03-08 Espacio Gallery, London, exhibiton
Borbás Helga kiállít Londonban

"Unfold
3-8 March 2020
Private View: Thursday 5 March 6-9pm
Part of Whitechapel Gallery First Thursdays
Unfold is a fascinating journey into the creative mind of the artist. It reveals the creative processes that are essential to the development of their art. They allow the viewer a glimpse into sources of inspiration, and invite the onlooker to watch their ideas unfold, evolve and eventually develop into finished artworks.
The exhibition showcases a variety of interpretations and mediums reflecting their different styles.

Petrică Bistran, Helga Borbás, Maria De Vido, Katya Derksen, Zurab Gogidze, Rebecca Hann, Fabienne Jenny Jacquet, Andy Jouan, Juliana Lauletta, Jenny Nash, Rowland Phillips, Nigel Rudkin, Francesca Serra, Stephanie Wardle
Curated by Carlos de Lins"
Forrás: Borbás Helga